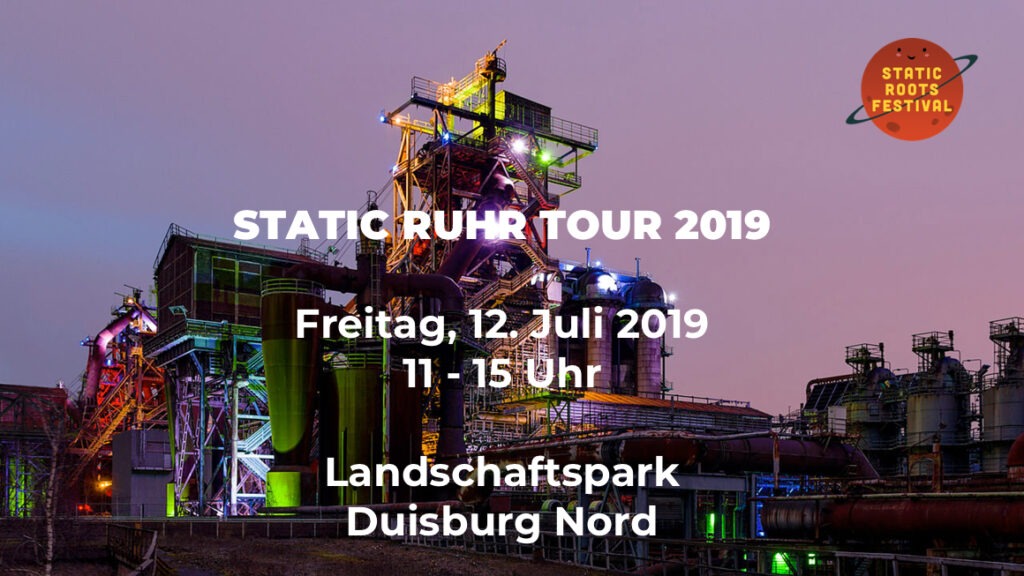 (scroll down for English version)
Was ist die "Static Ruhr Tour"?
Oberhausen, die Stadt in der das Static Roots Festival stattfindet, befindet sich in der Mitte einer der am meisten industrialisierten Gegenden Europas, dem Ruhrgebiet. Das Ruhrgebiet ist immer schon ein Schmelztiegel gewesen: schon vor über 200 Jahren kamen Immigranten auf der Suche nach Arbeit aus ganz Europa (Polen, Russland, Italien, Türkei, Griechenland, Spanien…). Und das Ruhrgebiet hatte mit Kohle und Stahl immer großen Bedarf an Arbeitskräften.
Um unseren (internationalen) Gästen die Ruhrgebietsgeschichte ein wenig näher zu bringen organisieren wir am Festival Freitag seit dem Jahr 2018 die Static Ruhr Tour und bringen unsere (internationalen) Gäste zu historischen Industrieanlagen oder Kulturgütern. Dabei müssen selbstverständlich lokale Spezialitäten wie Currywurst oder Kebab oder Bier ausprobiert werden. Wir möchten unseren Gästen dabei ein Gefühl für den besonderen Charme des Ruhrgebiets vermitteln.
Wohin führt die Static Ruhr Tour in diesem Jahr?
In diesem Jahr fahren wir in den Landschaftspark Duisburg Nord – eine frühere Stahlfabrik, die heute vom britischen Guardian zu einer der 10 besten städtischen Grünanlagen der Welt gezählt wird.
Aus der letztjährigen Tour haben wir insbesondere gelernt, dass die Laufstrecke ein wenig herausfordernd war. In diesem Jahr haben wir einen Bus gebucht, der uns bequem am Hauptbahnhof Oberhausen abholt, uns zum Landschaftspark nach Duisburg bringt und nach Abschluss des Ausflugs zurückfährt zum Hauptbahnhof Oberhausen. Alles rechtzeitig genug, um noch ein Nickerchen zu halten, bevor es mit den Festivalfeierlichkeiten am Abend weitergeht. Vor Ort im Park werden wir einen Guide haben, der uns den Landschaftspark näherbringen wird.
Im Park gibt es zwei kulinarische Optionen. Kurz vor der Veranstaltung werden wir uns unter Berücksichtigung der zu erwartenden Wetterverhältnisse für eine Option entscheiden. Currywurst und Bierchen (die im Preis enthalten sind) bieten auf jeden Fall beide Lokalitäten an.
Aufgrund des höheren Komforts durch die fest gebuchte Logistik, erhöht sich der Preis für die Teilnahme in diesem Jahr von 10 EUR auf 15 EUR.
Wenn Du gerne dabei sein, in Festivalstimmung kommen und nette Leute aus aller Herren Länder kennenlernen möchtest, kannst Du Dich bei diesem Facebook-Event als Teilnehmer eintragen. Bitte sende aber auch eine kurze Mail an staticruhrtour@staticrootsfestival.de, so dass wir Dich auf dem Laufenden halten können (wobei wir das selbstverständlich auch auf Facebook tun werden).
=== English version
What's the story about the "Static Ruhr Tour"?
Oberhausen (where the Static Roots Festival is taking place) is in the middle of one of the most industrialized areas in Europe, the Ruhrvalley ("Ruhrgebiet"). The Ruhrvalley is a melting pot: for more than 200 years, people from all over Europe (Poland, Italy, Turkey, Greece, Spain, …) came here to find work. And these immigrants also brought their cultures. On the festival Friday, we organize the Static Ruhr Tour. We'll take our guests to iconic industrial (and non-industrial) places and let them experience local specialties like Currywurst, or Kebab, and Pils beer. We want to give our guests an understanding of the distinctive charm of the area.
Where does the Static Ruhr Tour go this year?
We will take you to the Landschaftspark Duisburg Nord – a former steel mill and today "one of the 10 best urban green spaces in the world" (The Guardian). Actually we learned a lot from last year's first Static Ruhr Tour, especially that the walking distance was quite ambitious. This time we have booked a bus that will pick us up at Oberhausen main station, bring us to the park where we will have a guide (another lesson learned), and bring us back to Oberhausen main station – so there will be plenty of time for a power nap or to freshen up for the festival festivities.
At the park there are two culinary options and we will decide for one or the other just shortly before the event – when it's clear how the weather will turn out. Beer and currywurst (or another option) are included (yay!)
Because of the higher comfort for the logistics, we have to increase the price from 10 EUR to 15 EUR this year.
If you want to join us, get in the festival mood and meet some of the nicest people from all over the place, please join this Facebook event and write a short mail to staticruhrtour@staticrootsfestival.de so we can keep you posted about updates.